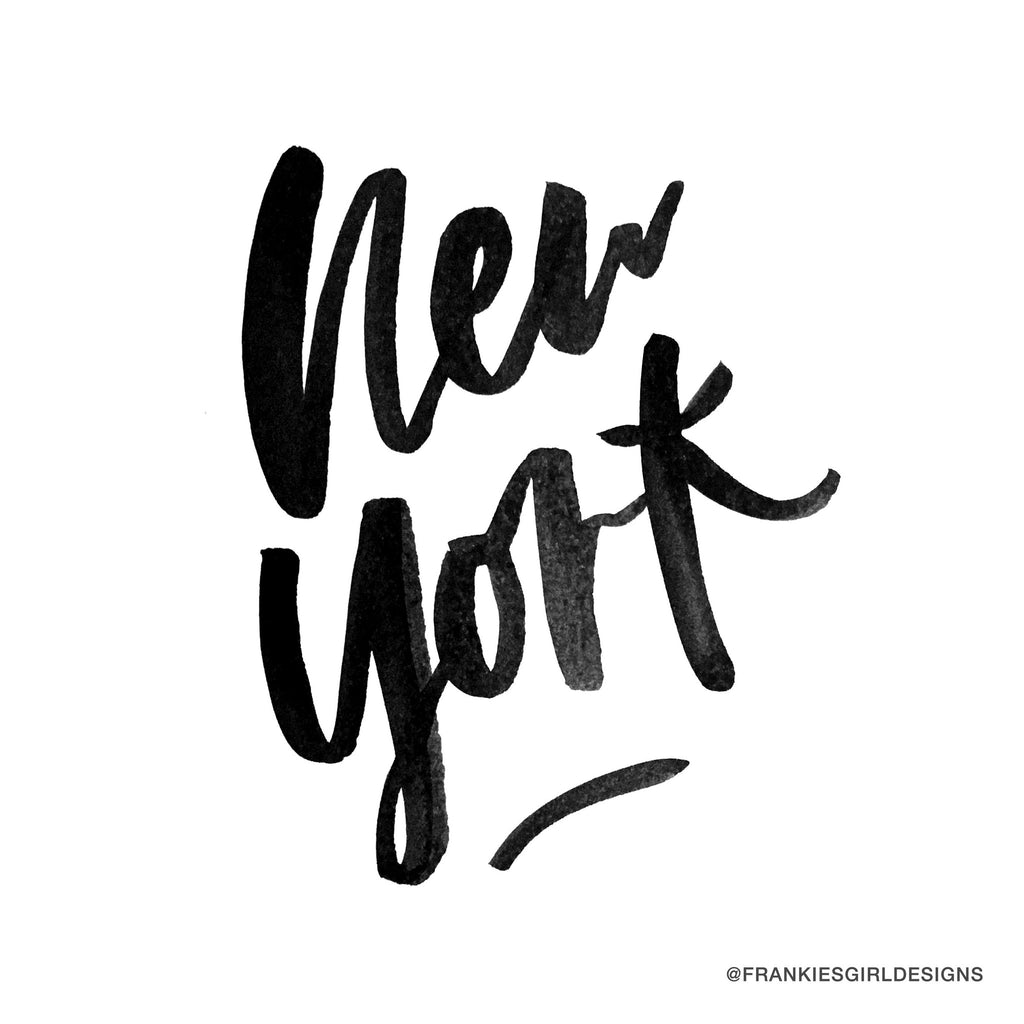 On Easter Sunday it'll be exactly a month before we leave for the bright lights of New York and get ready for our debut at the National Stationery Show 2017 (WOOHOO!!!). Frankie's Girl will be exhibiting at Booth 1464.
The National Stationery Show (NSS) is a yearly event held over four days - this year it's from the 21st to the 24th of May at the Javits Center in New York. The event showcases products from the paper and giftware industries.
From the site itself:
"The NSS attracts a diverse global attendance of buyers and industry professionals from stationery, card and gift shops; bookstores; bridal shops; party stores; department, chain and specialty stores; large chains and "big box" mass retailers; online retailers and mail order catalogs; as well as special event planners, corporate marketers, importers, distributors and manufacturers' representatives."
Clearly it's a big deal for those who work within one of these industries and definitely the biggest deal of my career to date. It started with sheer distress (considering that I applied for the show with only a handful of greeting card designs and only a couple of months to get a decent collection together). There were a plethora of emotions that ran through me, added to that some anxiety, depression, doubt, sleepless nights... laying in bed wide awake at 3am wondering what I'd gotten myself into... ah fun times!!! Within all this commotion, I somehow managed to pull it all together and get it - or most of it - done. I'm not completely there, but the finish line is definitely in sight.
Now all the tension is turning into complete excitement and I'm relieved that I have taken the chance, pushed myself and my work, physically and emotionally to a level that I'm happy to show off. It's ok to be proud of yourself once in a while right? Damn right!!! (Tap on the back time!)
The thing is, I've dreamt of attending this show as an exhibitor for so many years. However, life seemed to always get in the way... or maybe that was just my own doing (highly likely)... Not feeling that my ideas were good enough for the multitude of talented stationers out in the big wide world was not the greatest feeling to endure as a creative. But one of the most important lessons I've learnt and I am constantly reminded of in this life, is the need to believe in yourself. You are highly capable. You are strong. You are worth it. Now go get 'em!!!!
What's that saying? If you love what you do, you won't work a day in your life... well I love it, so planning to keep this party going for as long as I can. For the moment I am waiting on the next lot of my cards to arrive from my very patient printers, putting together the catalogue and finalising the last bits and pieces I need before we jet off.  
Farewell for now and see you at the show!!
Frankie's Girl xoxo
For those attending the show come see us (Sarine and Frank) at FRANKIE'S GIRL BOOTH 1464. For those you aren't attending I will keep you updated on instagram (frankiesgirldesigns) of what we get up to in NYC :)
Continue reading